Hip Replacement – Hip Arthroplasty
Hip Replacement
A total hip arthroplasty, or hip replacement, involves the replacement of the acetabular cup, femoral head, and femoral stem. The goal of both hip and knee arthroplasty is to eliminate pain, restore joint motions, and improve a client's functional status and quality of life. A hip arthroplasty can help treat diseases such as degenerative disease (osteoarthritis, rheumatoid arthritis).
How does Hip Replacement Surgery Work
During hip replacement surgery, a surgeon removes the damaged sections of your hip joint and replaces them with parts usually constructed of metal, ceramic and very hard plastic. This artificial joint (prosthesis) helps reduce pain and improve function. The surgical procedure takes an hour. Your orthopaedic surgeon will remove the damaged cartilage and bone and then position new metal, plastic, or ceramic implants to restore the alignment and function of your hip. After the surgery you will be taken to the recovery room to be watched. Hip replacement surgery can be done in both a Hospital and Ambulatory Surgery Center.
What is an Artificial Hip
Most artificial hip joints have a polished metal or ceramic ball that fits into a cup liner that's made of very hard plastic. Some older types of prostheses used mainly in the last decade use a metal cup liner, which may last longer but can cause other problems. Metal-on-metal prostheses are more likely to release metal ions into your bloodstream, which can cause inflammation and bone erosion. Because of these concerns, metal-on-metal prostheses are now rarely used. Hip replacements can be done in a hospital and a outpatient center.
Some contraindications to possibly receiving a hip arthroplasty is a Recent or active infection (urinary tract infection), which can cause micro-organisms to migrate to the surgical area and cause the prosthesis to fail, Arterial impairment to the affected extremity, Client inability to follow the postsurgical regimen, A comorbid condition (uncontrolled diabetes mellitus or hypertension, advanced osteoporosis, progressive inflammatory condition, unstable cardiac or respiratory conditions).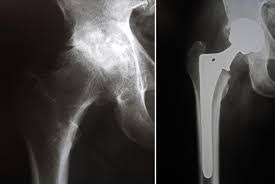 Hip Replacement Surgery Recovery
A physical therapist may help you with some exercises that you can do in the hospital and at home to speed recovery. Activity and exercise must be a regular part of your day to regain the use of your joint and muscles. Your physical therapist will recommend strengthening and mobility exercises and will help you learn how to use a walking aid, such as a walker, a cane or crutches. As therapy progresses, you'll usually increase the weight you put on your leg until you're able to walk without assistance.
It is important to begin moving the new joint after surgery. A physical therapist will meet with you soon after your surgery and plan an exercise rehabilitation program for you. Your pain will be controlled with medicine so that you can participate in the exercise. You will be given an exercise plan to follow both in the hospital and after discharge.
You will be discharged home or to a rehabilitation center. In either case, your healthcare provider will arrange for continuation of physical therapy until you regain muscle strength and good range of motion.
Contact Soma Orthopedics
For more information about the hip conditions we can treat in the Los Angeles and Beverly Hills, CA area, including hip replacements, please contact us at 855-SOMA-844 (855-766-2844).